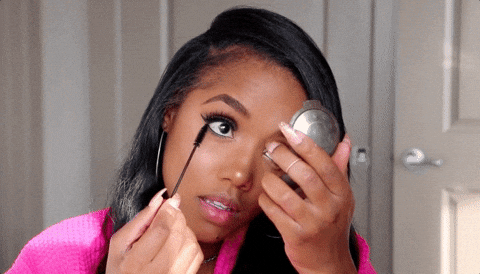 Hello beauties!
I know I haven't been blogging in while, don't hate me! Lately I've been working and uploading new content on my YouTube channel. Tonight, I was inspired by TiffIsABeautyJunkie's 40 Makeup question TAG. Instead of doing 40 skincare and makeup questions, I chose 26 makeup questions I think you'll be interested in.
Enjoy!
-What foundation do you use?
NARS Natural Radiant Foundation
-How about concealer?
Colourpop No Filter Matte Concealer
-Do you know your undertone color?
I would say I'm between a yellow and neutral undertone
-What do you think of fake eyelashes?
I LOVE lashes! They really transform my makeup looks.
-What brand of mascara do you use?
MAC Haute & Naughty Mascara & Benefit Bad Gal Lash Mascara
-Sephora or MAC?
Both!
-What makeup tools do you use in make up application?
Real Techniques's Sponge!
-Do you use make-up base/primer for the eyes?
I use Colourpop's concealer to prep my eyes.
-For the face?
Too Faced Hangover RX Primer
-Do you use pencil or liquid eyeliner?
Liquid.
-How often do you poke your eyes with an eyeliner pencil?
Occasionally.
-What do you think of pigment eyeshadows?
Love them!
-Do you use mineral makeup?
Nope. Always BEAT
-What is your favorite lipstick?
MAC Llipstick in Peachstock
-How about lipgloss?
Colourpop Ultra Glossy Lip, Neat Freak
-What is your favorite blush to use?
ABH Blush Trio in Cocktail Party
-Do you like drugstore makeup?
Most of it.
-Do you go to CCO's? (cosmetic company outlets)
Yes, that's the best place to find high end makeup products at a discounted price!
-Did you ever consider taking make-up classes?
Yes, I'm still looking into it.
-Are you clumsy in putting on makeup?
Only when I'm rushing
-Name a makeup crime that you hate?
Applying a light concealer to the top of the eyebrow & chalky looking lipstick, YIKES
-Do you like colorful shades of makeup (lipstick,eyeshadow) or neutral ones?
I lean towards more neutral shades but bright colors can be fun sometimes.
-If you could leave the house using just ONE make up item, what would you use?
FENTY BEAUTY GLOSS BOMB
-Could you ever leave the house without any makeup on?
Absolutely, you got to have confidence in yourself with and WITHOUT the makeup.
-In your opinion, what is the BEST makeup line?
Fenty Beauty, Colourpop, and NARS.
-What do you think of Makeup??
Makeup makes me feel beautiful, confident, and creative!
Thank you for reading, I hope you enjoyed this!